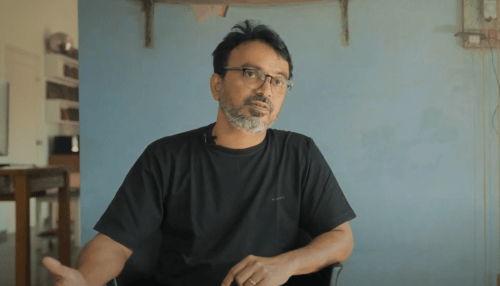 Abir Karmakar first gained recognition for his opulent self-portraits, which he deftly rendered in oil on canvas. He placed himself in interiors that were equally opulent, transporting himself to places he may have aspired to. These settings later gave way to banal, even drab rooms, showing the artist and his double. An uncanny sense of voyeurism was at play, owing in no small measure to the perspectives from which the scenes were painted.
In a later series titled 'Within the Walls' Karmakar painted a number of nude self-portraits, recalling Willem de Kooning's comment, "Flesh was the reason oil painting was invented". Benjamin Genocchio wrote in his New York Times review of the exhibition 'Shifting Shapes — Unstable Signs' that included a work from this series: "Mental pain and suffering is also the unstated theme of 'Within the Walls III' (2008), an impressive super-realistic painting by Abir Karmakar. It is a self-portrait, painted in a London hotel room, depicting the artist crouched down in a corner with his face right up against the wall. Is he frightened of something, or is he ashamed? We don't know. But the amber glow of the lights adds to the overall mysteriousness. Whatever the explanation here, this man is in purgatory."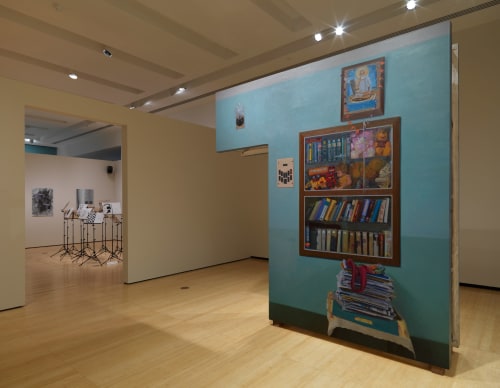 In recent years Karmakar's interiors have been devoid of the figure. In these new (life-sized) paintings the attention to detail is extreme. "Through my paintings, I exaggerate identity, and interrogate the prevalent discomfort around 'the other'", says the artist.
Born 1977 in Siliguri, India, Karmakar received his Bachelor of Visual Arts in Painting from Rabindra Bharati University, Kolkata and Masters in Painting from the Faculty of Fine Arts, M.S. University, Baroda. He participated in the 3rd edition of the Kochi Muziris Biennale, Kerala (2016) while his works have been part of prominent group exhibitions such as '20/20 Artists for Khoj', Khoj International Artists' Association, New Delhi (2018). His solo exhibitions include 'Displacement', curated by Birgid Uccia at Galerie Mirchandani + Steinruecke (2017) and 'Here everything is fine' at Galleryske, New Delhi (2019-20).