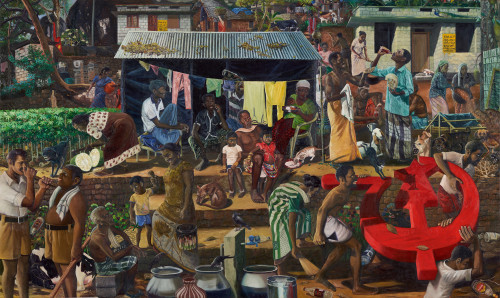 Ratheesh T's paintings are punctuated by ellipses that invite the viewer to further the enigmatic narratives he has set into motion. The image-juxtapositions in his paintings are an attempt to mould continuous time through a sequence of related happenings, either imprinted in the artist's memory or witnessed directly. Without ever making a preparatory sketch, the paintings are the direct rendition of his vision.
In an illuminating interview with Manoj Vyloor, Ratheesh gives the people who inhabit his canvases a precise sociological placing: they are dispossessed villagers. He says: "They are people I came across in my childhood through to my current life. They are mostly natives of my village and the places around ... These people are tough and are day-wage earners who battle for survival and self-sustenance. They are largely ignorant of outside worlds ... To me they are the natives oppressed by urbanization and related issues of the time ... set aside from progressive urban tendencies due mainly to their own rigidities and ignorance ... I observe them deeply ... and this close view creates an inability to differentiate and classify their qualities into good or bad, beautiful or ugly."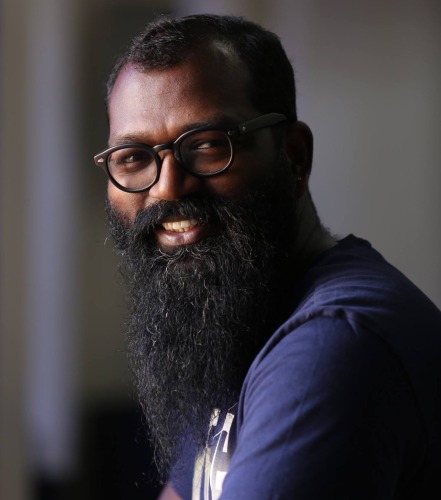 In recent years, Ratheesh has consciously reduced these visual worlds to a series of portraits of himself and his family, his studio and its surroundings, as a means of self reflection and discovery.
'I paint from my life but my work references universal experiences. Like "Kiss", an image of the unconditional affection between father and daughter. That feeling of love is the same all over the world.'