With Dark Terrain, Trivandrum-based painter Ratheesh T. turns to his lived experience of societal inequities in his home state of Kerala. Since his debut exhibition at Galerie Mirchandani + Steinruecke in Mumbai in 2007, Ratheesh has shown himself to be one of the most evocative and masterful painters working in India today. Unlike peer artists who often choose to center their narratives on migrations from small towns to mega-cities, Ratheesh's works have consistently given an image to a 40-kilometer stretch of Kerala, between his home village of Killimanor to the state capital of Trivandrum, revealing the deep tensions of social and physical mobility within a relatively modest ambit. Two of the artist's extraordinary early paintings Colorless Gods (2007) and My Village (2005) are recontextualized in this exhibition; they reveal tightly layered universes populated with complex narratives and dream-like mythologies.
In recent years, the artist's figural works have moved towards portraiture and the personal, pointedly addressing the agonizing prejudices he, his family, and so many others continue to quietly bear, largely due to their darker skin and caste. Representations of his young daughter in several works poignantly address this injustice while also showing her as deeply beloved. In Dancing Girl, she performs at a dance recital wearing heavy makeup to lighten her face, contrasting with her bare arms and feet, through which she remains recognizable. She stands beneath a photo of India's first Prime Minister Jawaharlal Nehru, whose own fairness is exaggerated. Light shines upon her tuile yellow dress, built up through broad brushstrokes, and she becomes the sun around whom the stars and moon of the patterned background curtain revolve. Scary Night presents the artist's daughter again, through a near-universal experience: of a young child approaching a parent with their nighttime fears; yet, even in this private moment, Ratheesh impresses the pain of cultural preferences through the distinction between her skin and that of the large plush doll she clutches. While the artist's reflections shadow broader discourses, he is clear that his gaze is specific and local, seen through the intimacy of portrayals that necessarily eclipse global and colonial frameworks.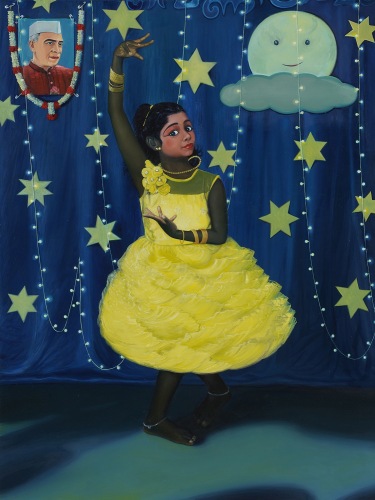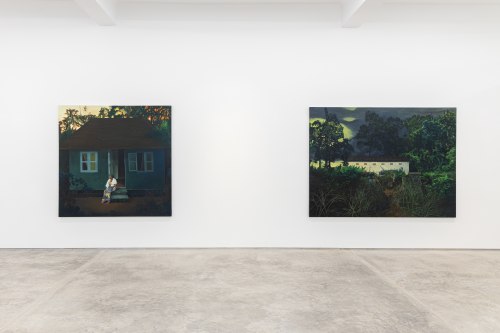 Having gradually adopted a looser approach to painting that emphasizes the emotional weight and tensions of his embodied realities, Ratheesh continues to integrate naturalism with mythological elements, developing this inquiry through an evocative range of self-portraits. In The Opening, the artist, barefoot and clad in a traditional lungi, appends wings to his back and morphs his beard into a beak. This self-image sets up a dramatic and even comical contrast with the three hyperbolic Euro-american women he faces, amidst the ritual of the gallery opening. In the work, he stands in front of his earlier painting The Wall Between Us, in which the artist is presented realistically (though doubly), his back towards us as he scales a central wall that marks the barrier to a world beyond his studio. In the device of multiplying himself, Ratheesh reveals a canniness in his approach to self-portraiture and blurs the space between a real and imagined mise-en-scene. The exhibition's eponymous work Dark Terrain shows Ratheesh again as a winged figure, yet this time he is miniaturized and standing atop a hot tawa on a gas stove as he faces an ominous wild boar. Across these works, Ratheesh builds compositions that shift between mysteriousness and the everyday; elements such as the worn and broken chair seat in The Wall Between Us (and quoted in The Opening) render it unusable yet key for visual balance with the floor plant adjacent to the artist. These still life objects further show Ratheesh's range of approaches to the painterly surface; while the rendering of his body relies on bold contrasts to render musculature and create a sense of weight, the reeds of the chair and plant are finely hatched and detailed.
Throughout his work, Ratheesh has reflected on the lives of the dispossessed. As he has honed his painting on his own relationships, this is seen most directly in the elderly woman in his town represented in Lonely Mother at Dusk. While earlier representations of the mother figure presented her as sturdy and able, we now see the anguish of aging in the world of the village. Here the light that shines on the mother – in contrast to the dimness surrounding her – only accentuates the gravity of her loneliness. The work signals the pervasive difficulty of a natural environment that is often presented as idyllic, and further points to the inherent sadness of most of the figures in the artist's portraits.
With this body of work, Ratheesh affirms his commitment to painting and his own sociality, courageously refusing to elide his artistic concerns with universal critical discourses beyond his own experience. His work reflects a layered and complicated reality that is at once timeless and contemporary, and a perspective that is unique and unmatched in any terrain.
–Beth Citron, New York, March 2023