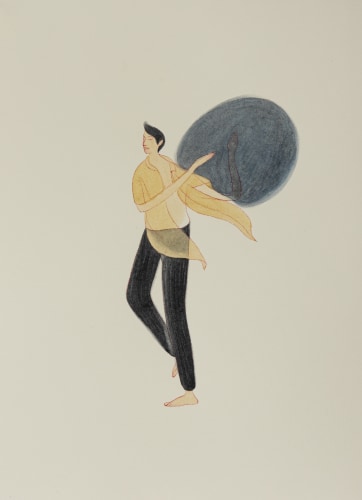 Poring over a stack full of paintings, Buddhadev remarks "Small works are like poems." It is afternoon and we are seated on the carpet in his studio, our necks bent over uncountable works on papers that are cut to the size of a cahier, stored neatly in various places—a wooden box from his days in Santiniketan, its slanted top to be used for painting; albums with slipcases; and portfolio files.
Amidst the medley of this particular afternoon, we look at the paintings which lay in front of us, and I am alerted to the care of his compositions, their sparseness betraying a concentrated point of view, not unlike the form of a poem. Soon, more affinities emerge: the attachment of lyrical poetry to the art of describing the human condition, its welding of feeling and fact, its dedication as Keats writes to seeking axioms that are "proved upon the pulse", its reliance on a mode of observation that exceeds indexicality, all of these coalesce firmly in the art of Buddhadev Mukherjee.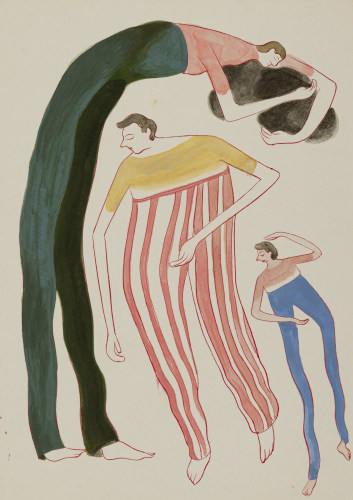 Working on diverse textures of paper, most commonly Japanese paper, with the aqueous mediums of watercolour and ink, Buddhadev paints figures revealed in their most intimately bare self, navigating the rhythms of daily life. I look again at the paintings and see signs of life beyond the body, its elongated form lending easily to other experimentations—fantastical amalgamations of objects, birds and animals with persons, many torsos sprouting from the same waist in tentacular forms, and in one particularly striking work, heads in an amphibian form, swimming towards what lies beyond the edge of the page. None of these seem out of place, their strangeness at home with the frictions of being and becoming.
Arushi Vats
New Delhi
May, 2023